You are a Starspeaker - a celestial ship-mage who crafts magic with the help of the stars, sun, moon, wind, and oceans. Your astrology helps determine positioning, the movements of other boats in the water, beasts that might be hiding in the depths, hidden challenges, and other hazards at sea. You are diviner and harbinger, and your power is both oracle and evocation.
The Siawseren and Rionnach mages are friendly, but competitive. The annual Starspeaker shiprace through the Ulian Islands is legendary; the full sailing crew of each region garners celebrity status. The game's goal is to finish the race first, avoiding as many hazards as possible, and incurring the least amount of damage to your ship. You do this by using different methods to draw new constellations in the sky, bringing magic down into the world.
Punks and the Fever Pitch
Punks and the Fever Pitch is a two-page Lasers and Feelings hack about saving punk rock in your hometown. You play a band that is fighting the man...a franchise trying to take over the local record store, a group of concerned parents trying to shut down the local battle of the bands, or even against gentrifiers occupying your local bar. Whatever it is, it SUCKS and you're going to put a stop to it.
The Bookshelf is a game about taking the time to organize your books, remember their value, and rewrite a story based on the stories you have already created. If you have toys, photos, or magazines, you think about different merits and continue the narrative.
At the end of your bookshelf you can choose to write another part of the story, put your writing aside, or pass The Bookshelf --and your own story--along to a friend. Perhaps they will add to your story or write a new one themselves.
This Role Playing Game is designed to introduce new players to RPGs. This is a game for both experienced players and new players, and it's recommended that the experienced player takes on the role of the Game Master - or the narrator - for the first game. This game emphasizes roleplaying and teamwork, and rewards acting in character. There are no stats.
STORY
In the far, far future, you and your crew are employed by Archaic Space Architectural Preservation (ASAP) - an intergalactic survey branch of the Smithsonian. You are given coordinates and your missions require travel to far-away planets, moons, stars, and asteroids in order to search out, catalog, and record venerable ruins of alien civilizations. These places are long-abandoned, their histories lost.
Your ship is given orders and help by the friendly AI, who you affectionately call Gem. The game starts when you land on Arli Mas, a planet that used to be covered by water, but the planet's erratic orbit has changed the climate, turning the seabeds to deserts. You exit the ship, at what used to be a beach, and is now a cliff.
----
All you need to play is 2-3 players and can be played with just a GM and player. Each character can roll up to three six-sided die.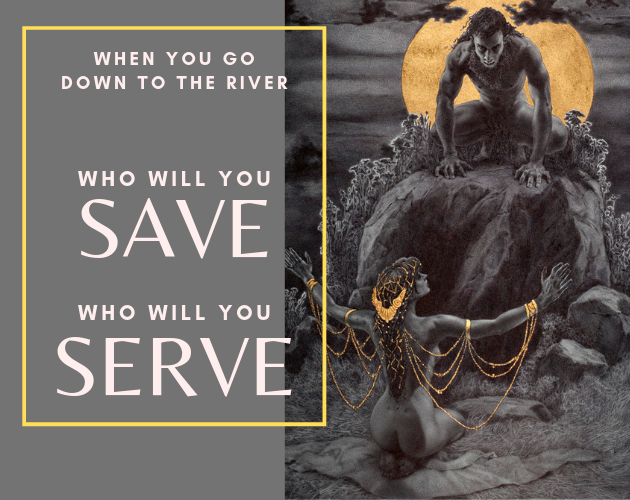 who will you save? who will you serve?
This is a game where two players recreate the folkloric story of Shamhat and Enkidu. It is a game of power, consent, knowledge, loyalty, and love. It uses a deck of cards to help narration.
The Myth
In the old story, Enkidu is a wild man who has been freeing animals from traps set by hunters, destroying cattle pens, and leading wild animals close to civilization. He must be tamed in order to protect the people living in the valley. King Gilgamesh, a warlord, hearing these things, sends Shamhat, the sacred prostitute to tame the wild man. Shamhat and Enkidu spend two weeks together in the wilderness. When Shamhat returns, she relates to Gilgamesh that the wild man Enkidu has been tamed, and then returns to him, forsaking her life at the temple and living with Enkidu as a wife.
The Game
In the game one person will play Shamhat - the sacred prostitute, and the other will play Enkidu, the wildling. The game takes place over a series of interactions where Shmahat attempts to seduce Enkidu to lie with them. In doing so, politics and power will be revealed, and both characters will have to consent and understand what will happen if they do lie together. Underneath all this lies the simple fact: Shamhat and Enkidu are attracted to each other, in a way that neither of them can fully explain.
The Wolpertinger - D&D Beast
This is a monster for D&D based on the Bavarian legend of the Wolpertinger, and slightly inspired by the rabbit of Caerbannog. Includes three encounter tables, story hooks, fun extras, and a dire warning...it's not a good pet, no matter what your demon party thinks.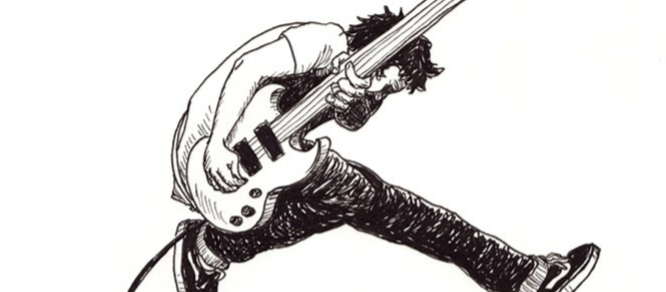 The Star - Monster of the Week Playbook
This is a custom Playbook for Monster of the Week.
"I'm a rock star, baby, but that's not all I am. I use my power, money, and influence to look into creepy things wherever I go! Touring is the perfect cover to get into those abandoned asylums."
Inspired by Jem and the Holograms, Josie and the Pussycats, and the Hex Sisters. Stay spooky ladies.
The Deep Seaways of Marakata
A one-page jungle island role play setting for DnD 5e. It's got a small map, an overview of the area, NPCs with their own hooks, mysterious cities, adventures, and two small encounter tables for land and sea.